Come celebrate the Southeast and the ABC Streets area of the Park Avenue Neighborhood at their third annual Garden Tour. This free event invites you to take a peek at the results of some of Rochester's best amateur gardeners along Harvard street between Culver and East Avenue. 
Information on community resources, including free books from the libraries, will also be available.  
Special Thanks to: Canandaigua National Bank
July 9, rain or shine, between 12-4pm. Admission is free!
OBTAIN MAP GUIDE at Morrison Park: Culver Rd & Harvard St East Avenue Dentistry: 1641 East Ave (at Park Ave)
PARKING: Park Avenue and alternate-side street parking East Avenue Dentistry parking lot: 1641 East Ave

AVAILABLE: *Michael Hannen's Rare & Different Plants* *Greater Rochester Plein Air Painters*
MUSIC: Rubick's Cubes will be providing acoustic music at the East Ave Dentistry site – https://www.facebook.com/Kubickrubes/
For more info: abc.streets@gmail.com www.abcstreets.org 585 721-8684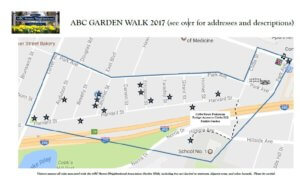 Stay connected
Want to know what's coming up with Celebrate City Living? Interested in seeing housing opportunities ahead of the crowd? Sign up to be notified when apartments or houses have open houses and be the first to know when they are on the market!
Your business here
Find out how to become a sponsor and showcase how you make Rochester great!