Rochester is in New York State, but definitely midwestern in many (good!) ways. We are closer to Detroit than we are to New York City! (To get further oriented to Rochester's geography, click here.)
Rochester is in Western New York, about mid-way between sister cities Buffalo and Syracuse. The city is on the southern shore of Great Lake Ontario (the world's fourteenth largest lake!) and just northwest of the world-renowned Finger Lakes wine region.
Nestled between Lake Ontario and the Finger Lakes region in Upstate New York, Rochester is a well-kept secret. Visitors tell us we have the architecture, diversity, education, arts and culture, nightlife, restaurants, recreation and sports of a much larger city, but the easiness, affordability, accessibility, community and hospitality of a small town. (More on this stuff below!) We think you'll be pleasantly surprised by the richness of life in Rochester.
Be sure to take time to browse through the rest of the About Rochester pages, accessible from the drop-down menu above! You'll learn about Rochester's architecture, history, arts and culture, children/family assets and offerings, education and schools, transportation, media, government, parks and recreation, restaurants and nightlife, shopping/goods/services, news/events/happenings, diversity, and health-well being resources…and more!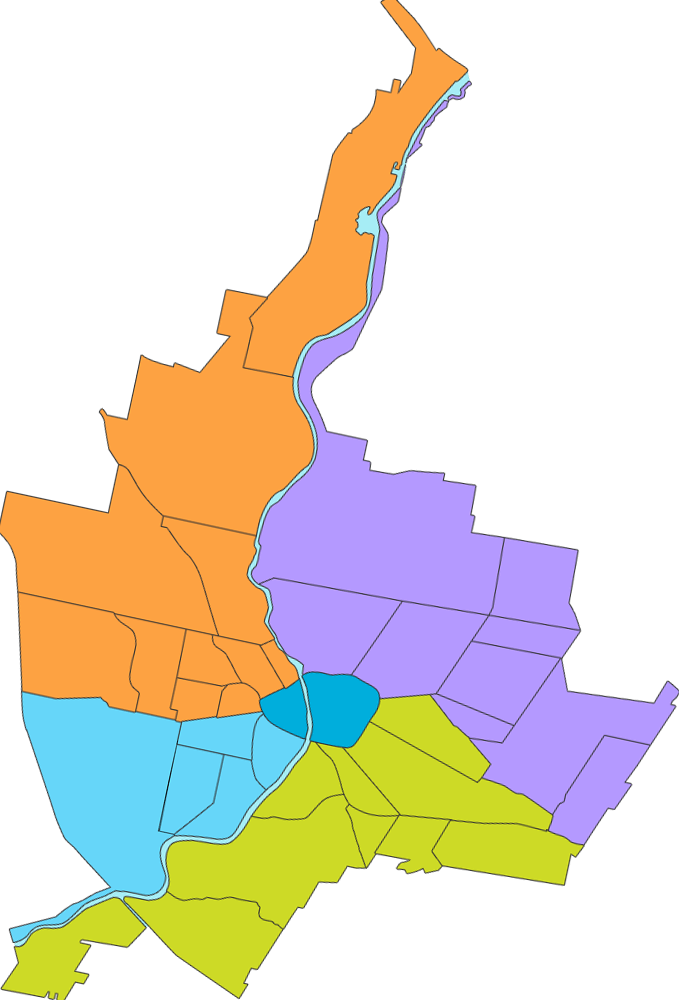 click a neighborhood to view more information about it
City of Rochester Quick Facts
The City's area is 35 square miles and its population is about 208,000, making it comparable in size to Richmond, Orlando, Birmingham, Winston-Salem, Akron and Boise.
The six-county Greater Rochester region has a population of about 1.1 million.
Rochester is the third most populous city in New York State.
From Rochester, New York City is six hours by car and train, and one hour by air; Boston is seven hours by car and rail and one by air; Albany is four hours by car or train; Toronto 3-4 hours; Montreal and Ottawa 5 hours. Buffalo is 75 minutes west by car or rail; and Syracuse is 90 minutes east.
City residents refer to themselves as Rochesterians; with the real Rochester accent, this sounds like "RATCH-ester," with the "Ratch" sounding like "latch" and the "ester" part said very quickly compared to the "Ratch."
The City's population is truly diverse: about 39% of residents are African-American, and 13% are Hispanic/Latino. The Asian/Pacific Islander, African, and Eastern European/Russian populations in the City are rising.
Rochesterians' work commutes average only 19 minutes — 40% less than the state's average of 32 minutes.
Climate: Yes, it snows. About 100 inches average per year. Some recent years over 150. But we don't apologize for it, because winter is real here, often beautiful, and can be fun! We also, however, have glorious cooler summers and enviable outdoor activities through all four seasons. Keep in mind that the "lake effect" that we are know for actually makes for milder winters and cooler summers than places like Minneapolis, or even places further south, like central Pennsylvania! Our climate has the reputation for being harsh, but the truth is that we are one of the best farming and gardening ares of the country. Stuff really likes to grow here!
History: Yeah, it really is impressive, illustrious, and interesting. From its founding on the High Falls of the Genesee; to being the home of pioneering Americans such as Frederick Douglass, Susan B. Anthony and George Eastman; to its status as a two-century hub of technological, educational, social, artistic, architectural, and other innovation, Rochester is a place to learn and live history every day. Surely this history deserves its own page, so click here to learn more.
Getting Down to Business: From the earliest days of its flour mills on the banks of the Genesee River, Rochester has always found a way to make things happen. Something about the place breeds innovation and enterprising spirit. The "Big Three"–Kodak, Xerox, and Bausch & Lomb–rose to greatness here and once dominated local employment. They're still at it, but now smaller firms are launching a new era in Rochester's economy. Today, the University of Rochester and its Medical Center is the city and region's largest employer, highlighting the shift from an industrial to an "eds and meds" economy. In addition to our booming education and medical economy, the region is also leaping forward and ahead in biotech, telecom, photonics and optics, IT, and green technologies. For more on Rochester's economy, click here!
Locus of Learning: The city's education offerings include award-winning early childhood education programs, public and private elementary and secondary schools, and an an array of higher education institutions for people for all interests, abilities, and walks of life. Click here to delve further into our deep and diverse educational offerings.
Cultural Cornucopia: We've got world-class music, theater, museums, galleries, festivals, a century-old Public Market, restaurants of just about every kind, and so much more. Click here for the full scoop on our awesome arts and culture.
Time to Play: In Rochester, the dream of a balanced life is a reality for many. And we have so many recreational opportunities and options for the ample all-important "R&R" time you can have here: beautiful and accessible parks and trails, a beach, exciting professional and collegiate sports venues, concerts, festivals galore, sports leagues, gym and athletic clubs, children-focused facilities and activities galore, and more. Click here to see why Rochester is a recreational mecca.
Rochesterians are Involved: There is strong civic pride and spirit in Rochester. What else would you expect from the home of Frederick Douglass and Susan B. Anthony? The city is chock full of active, dedicated, committed neighborhood associations, block clubs, business associations, and the like. Check out neighborhood pages from above drop-down menu to learn more about the organizations serving them and the citizenry of the city.