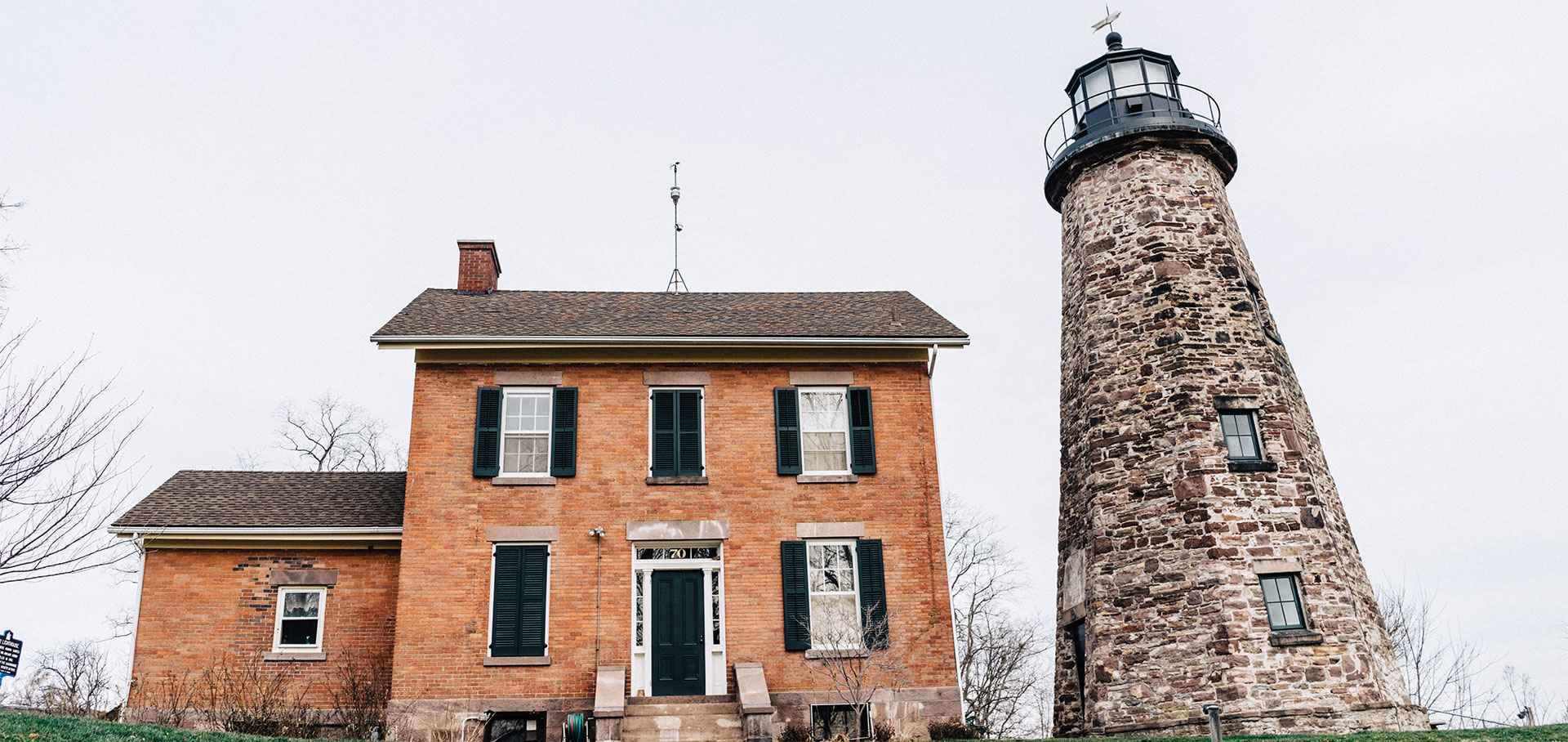 To the visitors who flock here, the Charlotte ("shuh-LOTT") neighborhood is a quintessential beach destination. Toddlers build sandcastles, music lovers enjoy outdoor concerts, and anglers cast hopefully from the pier. Weekend boaters hoist the sails, while children of all ages whirl on a genuine 1905 Dentzel carousel. But Charlotte is full of winter activities too. Check out the annual Polar Plunge or Lakeside Winter Festival, and see why this is a year-round gem.
Charlotte extends from the city's center north along the Genesee River. It is bordered on three sides by open space: Turning Point Park along the Genesee, Ontario Beach Park on the lake, and the extensive Riverside and Holy Sepulchre cemeteries to the south. In between, the neighborhood is blessed with undulating topography. Many residential streets are built on small ridges with valleys in between, creating a pleasant wooded feel to the area. A major landmark is the Charlotte-Genesee lighthouse, built in 1822. It sat idle for nearly a century until its restoration as a museum by the Charlotte-Genesee Lighthouse Historical Society in 1984. The Latta-Meech House, meanwhile, is believed to be the second oldest building in the county.
Spend the day walking the neighborhood, and you will discover why Charlotte is a stellar place to live! Near the historic waterfront lives a friendly and stable community of year-round residents. This area was once a busy stop on the New York Central Railroad. Grand summer homes sprang up on the beachfront and smaller cottages on the nearby streets. Today these turn-of-the-century homes are owned by full-time residents, and represent some of the older housing in the neighborhood. Charlotte also includes significant pockets of Post World War II houses, including developments from the 1980s. St. Bernard's Seminary, originally built in 1892, has become a housing complex for seniors, convenient to the beach to the north, and with the rest of the city just down the street.
In 1962, the Charlotte Community Association was created. Today the Community Association boasts several hundred paying members, ranking it among the largest and oldest associations in the city. Over the years, these committed neighbors have tackled issues from traffic and noise, to halting industrial development and dedicating Turning Point Park as a wilderness preserve. Monthly CCA meetings are open to the public and their website is actively maintained.
Resources:
Charlotte Community Association
Port of Charlotte Business Association
Northwest Neighborhood Service Center
Neighborhoods are living breathing entities, which can change over time. Although we have tried to capture the essence of this area, the Coalition will be reviewing information twice a year to determine if any updates should be made. If you have suggestions for an update, please contact us and we will consider it at the next review.