The Neighborhood of the Arts (NOTA) is an exciting mix of residential blocks, eclectically renovated mixed-use buildings, world-class museums and cultural institutions, galleries, studios, retail and restaurants, and more! It's all knit together by ARTWalk, an award-winning redesign of the neighborhood's main thoroughfare into a pedestrian-focused outdoor art trail.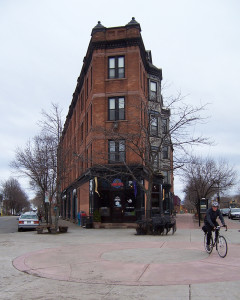 Anchored by a magnificent Flatiron Building, NOTA is today one of the most desirable neighborhoods in Rochester. Only 15 city blocks long and a scant three blocks wide, this district packs in more museums, cultural institutions, art schools, galleries, and studios than any other neighborhood in the Rochester metropolitan area. Such clustering of arts facilities creates a synergistic magic here. Museum lovers and film and drama buffs can enjoy the George Eastman Museum and the renowned Dryden Theater, Writers and Books, the Rochester Broadway Theater League, and others. The School of the Arts also calls this neighborhood home, providing the students with artistic resources right outside their door.
In addition to fine arts, NOTA boasts a wide range of businesses and light industry. The historic Gleason Works, housed in a quarter-mile-long historic building along University Avenue, is the world's largest gear-making machine manufacturer. Many salons, cafes, boutiques, and cultural centers line the streets of the neighborhood. Popular dining establishments and a newly constructed brewery signify an economic turn in this small segment of the city. The city's first Parklet was established outside Joe Bean Coffee Roasters in the summer of 2015.
As a destination spot, NOTA draws thousands each year for its highly successful events. In summer, the Memorial Art Gallery hosts the Clothesline Festival, Rochester's oldest and largest arts and crafts fair, features more than 600 artists from 23 counties and several states. From fall to spring, the artists of the Anderson Alley invite the public into their studios on the second Saturday of the month, and a number of businesses regularly participate in the city-wide First Friday events.
Resources:
Neighborhood of the Arts Business Association
Southeast Neighborhood Service Center
# 46 School R-Center – After School Program 
Neighborhoods are living breathing entities, which can change over time. Although we have tried to capture the essence of this area, the Coalition will be reviewing information twice a year to determine if any updates should be made. If you have suggestions for an update, please contact us and we will consider it at the next review.