Organization of the Month: Five Star Bank

About Us
With 200 years of community banking experience and a portfolio of $3.7 billion in assets, Five Star Bank offers a wide range of consumer and commercial banking and lending services to individuals, municipalities and businesses through a network of more than 50 offices and 60 ATMs throughout Western and Central New York State.
We provide our customers a dedicated team of more than 600 employees who work together in an environment of trust, integrity and mutual respect. Our customers are at the heart of our organization, where every interaction is an opportunity for us to deliver a friendly, professional, relationship-building experience. We take great pride in being a part of each and every community in which we serve, and we are committed to giving back to a variety of non-profit organizations and neighborhood charities.
Five Star Bank is a subsidiary of Financial Institutions, Inc. ("FII"), a publicly-traded company. FII provides diversified financial services through its subsidiaries Five Star Bank, Scott Danahy Naylon and Courier Capital. FII's stock is listed on the Nasdaq Global Select Market under the symbol FISI.
Five Star Bank Loans and Lines of Credit
At Five Star Bank, we offer a variety of loan options for any borrowing need. Whether you are buying a home, purchasing a car, making home improvements or just need a little extra cash, we can help.
Home Equity Line of Credit
Home Equity Loans
Home Improvement Loans
Mortgages
Personal Loans
Vehicle Loans
Special Program for First Time Homeowners:
Our First Home Club Program provides financial assistance for first time homebuyers by matching funds based on a systematic savings plan within a dedicated savings account. If you qualify for the First Home Club, for every $1 you deposit, you could be eligible for $4 in matching grant funds, up to $7,500! This grant may be used towards the down payment and closing costs for the purchase of your new home.
Five Star Bank in Rochester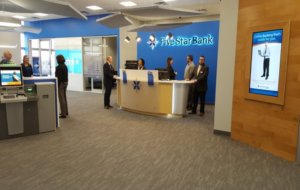 There are nine conveniently-located Five Star Bank branches in the Rochester area:
Brighton – 1940 Monroe Avenue
Brockport – 2 West Avenue
Chili Center – 3177 Chili Avenue
Greece – 2833 West Ridge Road
Henrietta – 765 Calkins Road
Honeoye Falls – 166 West Main Street
Rochester – 395 Westfall Road in CityGate
Victor – 3 West Main Street
Downtown Rochester – Five Star Bank Plaza at 100 Chestnut Street
Commitment to Rochester
Five Star Bank has made significant investments in the Rochester area over the past 16 months:
Opened new financial solution centers in CityGate, Brighton and Downtown's Five Star Bank Plaza
Relocated the regional administrative center and approximately 150 employees from Pittsford to Five Star Bank Plaza
Partnered with the United Way of Greater Rochester in the Five Star Bank Small Business Challenge, a challenge grant to be funded by corporate and employee donations
Five Star Bank's financial solution centers are providing a much-needed and desired banking choice to nearby workers and residents. We offer quality and affordable, convenient banking options and we work diligently to ensure that these services are made available to those most in need.
Five Star Bank is community banking the way it should be.  Made for You!
Additional Five Star Bank information is available on the company's website www.five-starbank.com, on Twitter, and on Facebook.